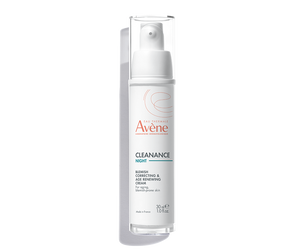 Avene Cleanance Night is a powerful overnight cream that targets blemishes while renewing the skin. Formulated with blemish-fighting and age-renewing ingredients, it works while you sleep to reduce blemishes, unclog pores, and improve skin texture. Enriched with soothing Avene Thermal Spring Water, this lightweight cream is suitable for sensitive skin. Wake up to a clearer, smoother, and more youthful complexion with Avene Cleanance Night.
How To use:
Start with clean, dry skin. Thoroughly cleanse your face using a gentle cleanser suitable for your skin type.

Take a small amount of Avene Cleanance Night cream and apply it evenly to your face and neck. Focus on areas prone to blemishes or signs of aging.

Gently massage the cream into your skin using upward, circular motions. Ensure that the cream is absorbed completely.

Leave the cream on overnight and let it work its magic while you sleep. There is no need to rinse it off.